JULY WALK WITH IAN McCONNEL
Monday July 1st @ 6:00 pm

–

8:00 pm

The next walk will be from the Sun Inn, Hook Norton. OX15 5NH

They have asked us to pre-order by the Friday before. Please see the menu below. It would probably be simpler for you to send me your orders so I can forward a combined list on to them. I am sure they should be able to handle the odd late entry!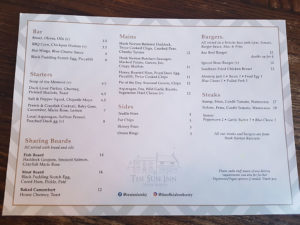 I did a pre-walk yesterday and it took me 1hr 40 mins. There is a possible short cut of about 1 hour.
Ian
Thank you
For more information please contact me on 07498 923249 or imcconnelhome@gmail.com