Vacancies
We are always looking for committed people to join our team in paid, volunteer and Trustee roles, and we're happy to receive enquiries even if we do not have immediate vacancies.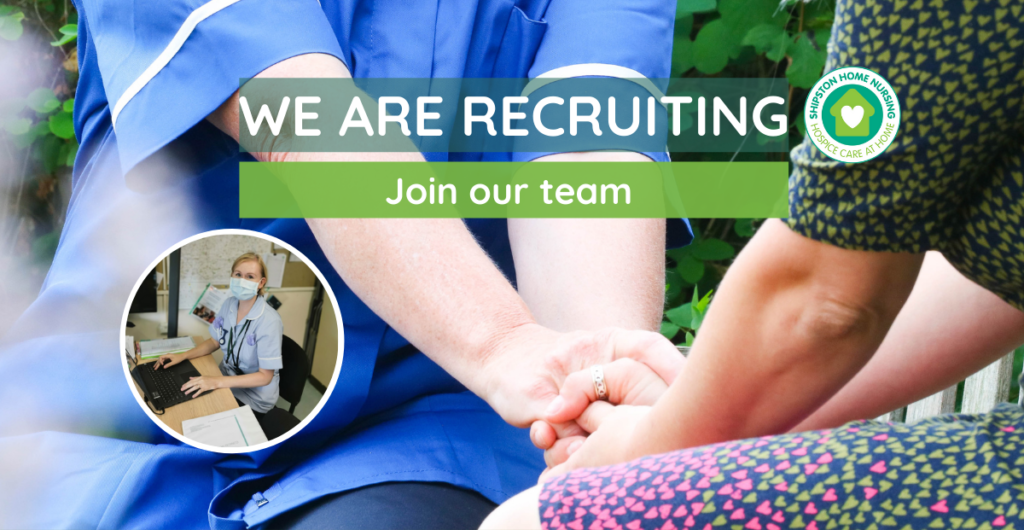 We are currently recruiting for:
Shipston Home Nursing is an award-winning Hospice at Home service providing palliative care in Kineton, Wellesbourne and Shipston on Stour. Our Trustees form part of a small, dynamic team focused on delivering high-quality end of life care to adults in our community who wish to be nursed in their own homes. Trustees play an important role in the development of our service and the governance of the Charity, helping us to reach all patients and families facing difficult times. They carry the overall legal responsibility for the decisions and actions of the charity, ensuring that Shipston Home Nursing has a clear strategy, and that our work and goals are in line with the charity's vision, mission and values. Our services are provided free of charge throughout our community and we seek Trustees with a diverse range of backgrounds and experiences. If you are interested in becoming a Trustee and have clinical, income generation, marketing or legal skills, we would love to hear from you.

Remuneration: Trusteeships are voluntary and not remunerated. However, reasonable expenses will be covered.

Time commitment: Trustees are expected to attend four Board meetings per year. Where relevant, Trustees are also required to join additional sub-committee meetings which take place four times a year.

Reporting to: Chair of Board of Trustees
For an initial, informal discussion, please call Andrew Revell on 01608 664850 or email andrew.revell@shipstonhomenursing.co.uk
Registered Nurses and Health Care Assistants
At Shipston Home Nursing, we're looking for full and part-time RGN's and HCA's to join our friendly Hospice at Home Team, looking after patients and families in and around Shipston on Stour, Wellesbourne and Kineton.
We will provide you with a full induction programme, together with regular in-house training and external training, giving you opportunities to improve your skills and knowledge.
You will receive a competitive rate of pay, enhanced rates for nights and weekends (plus a night retainer incentive) and Bank Holidays, mileage reimbursement and, if you work enough hours for us, the option to join our pension scheme.
Our rates of pay are as follows:
RGN's – £16.95 to £27.13 per hour
HCA's – £12.73 to £20.37 per hour
We would like you to have:
· RGN: Palliative care experience.
HCA: Ideally a Care Certificate, although this is not essential as we will provide training.
· Both roles require good communication skills with the ability to show compassion and empathy.
You will also need to have a driving licence, access to a vehicle and a satisfactory DBS check.
If you're interested, please call Gemma Roberts, our Head of Nursing, on 01608 664850 or email gemma.roberts@shipstonhomenursing.co.uk
Community Bank Nurses
If you're a conscientious and enthusiastic nurse looking for the flexibility of a Bank role delivering palliative care in the community to patients and those that are important to them, call Gemma Roberts on 07779 405350 or email gemma.roberts@shipstonhomenursing.co.uk
You will play an active role in advancing high quality specialist palliative care services and promoting excellence in end of life care. A broad range of effective communication skills are essential as well as the ability to work collaboratively with the wider multi-disciplinary team.

If you are keen to develop your career within a dynamic team who strive to achieve optimal palliative and end of life care outcomes for patients this is the role for you.
A comprehensive induction process is provided, together with a program of in-house and external training and opportunities to further your experience.
We also offer competitive basic rates of pay of £16.95 to £27.13 per hour plus attractive 'shift retainer' payments.
This position requires applicants to have a current UK Driving Licence and access to a vehicle and is also subject to a satisfactory enhanced DBS check and satisfactory references.