We are proud to be sponsors of Shipston Home Nursing and help contribute in some way to the amazing work the Nurses offer to patients and families who need them.
About us
Paddock Farm was set up in 2008 by Nick and Jon Francis. Both keen cooks we set out with a simple aim: to produce the best pork, without compromise. We've always refused to cut corners or compromise on quality and this ethos now extends to all our products.
We're an usual farming partnership as we weren't born into a farming family.The pigs were purchased as a hobby initially, with the intention of simply producing some delicious pork for our food-loving family. We then completed a pork cutting, curing and smoking course and butchered the pigs on the kitchen table, turning them into a host of porcine delights including dry-cured bacon, sausage, salami and hams.
Delighted with the quality of our first pork we then bought two breeding sows which farrowed the following spring, producing 17 piglets which were sold to local butchers, restaurants and friends. Feedback was overwhelmingly positive and Paddock Farm was born.
For five years we continued to expand our breeding herd whilst investing the infrastructure and equipment to store, butcher and sell our Tamworth pork. It was sold almost exclusively to restaurants, hotels and gastro-pubs, and we built a solid reputation for supplying excellent quality consistent Tamworth pork amongst top chefs across the country.
Our next step was to be a retail outlet and we had the opportunity to take on an established butcher's shop in Brailes, Warwickshire.
Keen to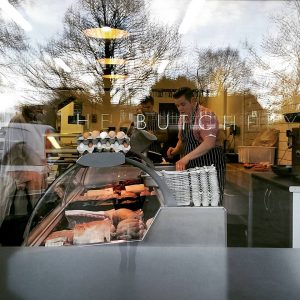 broaden our offering to include neighbouring farmers' excellent beef and lamb we invested in extra cold storage to dry-age and supply other
well-sourced meats. And with the inclusion of our in-house cook we are able to turn our fine produce into all manner of delicious pies, pastries and meals…
The Farm
Producing great meat is all about raising the finest animals in the best environment possible.
At the heart of everything we do is our farm and our herd of native-breed Tamworth pigs. As well as supplying us with all our delicious pork, sausages, bacon and charcuterie, our farm sets our benchmark for welfare, animal husbandry and quality. Working with other similar minded producers and suppliers we are able to stock beef, pork, lamb, poultry and game of a quality that is second to none.
We're proud to supply many of the country's top chefs with well raised, properly aged, respectfully butchered meat – we can count more than 40 Michelin stars amongst our customers and restaurants.
Opening times
Tues – Fri: 7.45-17.00
Sat: 7.45-16.00
Find us Facebook