Our partnership with local Pubs and Restaurants has been operating for over 15 years…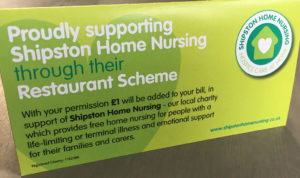 Each month a different Restaurant or Pub displays our tent cards to show they are a member of the Restaurant Scheme.
When you receive your bill from the participating Pub/Restaurant, there is an optional charge of £1 which is donated to Shipston Home Nursing.
If you are a Pub or Restaurant and would like to join us as a fundraising partner please call Suzie Coyte on 07989 568724 or 01608 661188 – Thank you for your support.
2018 update from Suzie…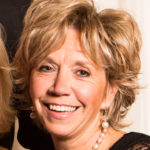 Once again, the Restaurant Scheme had another good year in 2018 with many local Pubs and Restaurants supporting Shipston Home Nursing.
A huge thank you to all those eateries who kindly agreed to take part in this annual fundraising initiative and a very big thank you to all of your customers who kindly supported this scheme. Your support as always is truly appreciated.
We thank the following eight marvellous pubs and restaurants who raised the wonderful total of £969, The Howard Arms, Cherington Arms, Chequers, Halford Bridge, The White Bear, The Norman Knight, The Fuzzy Duck and Shukurs.
We would also like to take this opportunity of giving special thanks to James and Kirsten from Ettington for their massive support raising huge funds over the many years whilst they were at The Chequers. Thank you once again for your enormous efforts.
If anyone knows of any pubs or restaurants who would like to be involved in the Restaurant Scheme, please call me and I will give you the details of how to run this very simple fundraising idea. It would be greatly appreciated if we could get more Pubs, Hotels and restaurants on board to help raise more funds for this great Charity.
Thank you to everyone who has supported the restaurant scheme this year, your help is invaluable and every penny counts and is vital to the Charity.
Thank you,
Suzie Coyte
2020 Restaurant Scheme Supporters (Subject to confirmation)
Month
Pub/ Restaurant
January
N/A
February
The Cherington Arms, Cherington, CV36 5HS
TeL: 01608 685183, www.thecheringtonarms.co.uk
March
TBC
April
The Howard Arms, Ilmington, CV36 4LT
Tel: 01608 682226, The Howard Arms
May
Halford Bridge Inn, Halford, Shipston-on-Stour, CV36 5BN
Tel: 01789 748217
June
The Bower House, Market Place, Shipston-on-Stour, CV36 4AG
Tel: 01608 663333 www.thebower.house
The Chequers Inn, 91 Banbury Road, Ettington, Stratford-Upon-Avon, CV37 7SR
Tel: 01789 740387 The Chequers Inn
July
The Norman Knight,  Ascott Rd, Whichford, CV36 4LT 
Tel: 01608 684621, www.thenormanknight.co.uk 
The Horse and Groom, Bourton-on-the-Hill, Moreton-in-Marsh, Gloucestershire, GL56 9AQ
Tel: 01386 700413 The Horse and Groom
August
The Fuzzy Duck, Armscote, CV37 8DD
Tel: 01608 682635, www.fuzzyduckarmscote.com
September
TBC
October
The Chequers Inn, 91 Banbury Road, Ettington, Stratford-Upon-Avon, CV37 7SR
Tel: 01789 740387 The Chequers Inn
November
The White Bear, Shipston, CV37 4AJ
Tel: 01608 664199, www.whitebearinn.com
December
The Bower House, Market Place, Shipston-on-Stour, CV36 4AG
Tel: 01608 663333 www.thebower.house
The Howard Arms, Ilmington, CV36 4LT
Tel: 01608 682226 www.howardarms.com
The Chequers Inn, 91 Banbury Road, Ettington, Stratford-Upon-Avon, CV37 7SR, Tel: 01789 740387 The Chequers Inn