With your support Shipston Home Nursing can continue to help families facing incurable illness.
To maintain our much needed free nursing service within the local community we need to raise over £400,00 annually.
We know there will always be families in need of our Hospice at Home care and with your support we can continue making a difference to our local community and ensure the sustainability of our service.
Our Charity is funded in many ways, from challenging and inspiring events throughout the year, donations from local groups, clubs, schools and legacy's from individuals and families. We also receive a modest grant from the NHS to recognise the support we provide in helping reduce hospital admissions and providing patients with choices for their end of life care.
There are many ways to get involved and help us raise funds and whatever you decide to do, we will support the commitment you have shown us, to help make your chosen activity a great success.
We are always delighted to hear and share your ideas and stories.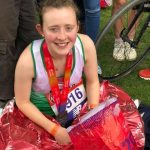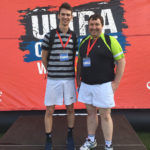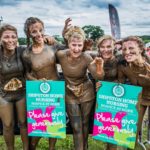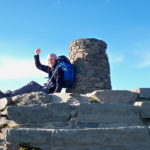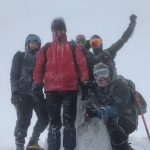 If you need inspiration for your fundraising ideas please tell us your plans and we will help you turn them into reality. We will support you and can promote your event online and also supply collection buckets, banners and leaflets.
Challenge yourself and raise funds.
Have you ever thought of jumping out of an aeroplane…our wonderful supporter Ming Pearson had the opportunity to do this on a trip to New Zealand, here's her story…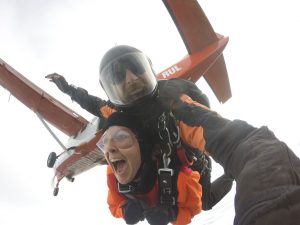 Ming Pearson's Sky Dive in New Zealand
"David and I decided to take a three month sabbatical with our three children at the beginning of 2018.
It was a marvellous, memorable experience for us all. Some friends of mine who used to live in New Zealand gave me a birthday present to be done over Lake Wanaka in the South Island, a terrifying SKY DIVE from twelve thousand feet!
I decided that if I was going to do this crazy challenge I would like to do it for a local Charity that operates, where I live in South Warwickshire.
Shipston Home Nursing is very much part of our community and we have supported this Hospice at Home charity for many, many years.
A justgiving site was set up and many of my friends and family generously supported this terrific cause. I am very grateful to them for their fantastic support. Thank you all so much. I am proud to have raised £2,300 for such a worthwhile cause"
Other ways to Fundraise
Create an online giving page
Whether you're taking part in an organised event, celebrating a special occasion or remembering someone, you can set up your own online fundraising page via www.justgiving.com it's free, fast and easy to use.
If you have any difficulties or questions, please call the Fundraising Team on 01608 674929 and we'll be happy to help.
Facebook Fundraisers
You can set up a Facebook fundraiser for a special occasion, anniversary or birthday to help raise funds for us.
#Giving Tuesday
On December 3rd join in the worlds one-day fundraising campaign, which aims to encourage people to think of those in need at a time of year when many of us are giving and receiving presents and buying extra-special festive treats #Givingtuesday
Support Local Events
We organise a variety of local community events throughout the year. Sponsored 10k Run/Walk, Plant Sale, Quiz Nights, Dinner Dance, Christmas Fairs, Fashion Shows and a Bi-annual Ball. You can find details of our events here events.
Challenges
Whether you're a keen runner, baker, cyclist, or a daredevil, what will you do for Shipston Home Nursing?
Schools, Clubs and Groups
Non-uniform days, Summer fetes and bucket shakes. Why not ask your school or fellow club members to carry out a fundraising event for us. The possibilities are endless, with lots of simple ways to have fun and raise funds, so we can continue to care for patients and families facing incurable illness.