Richard Gray is a valued supporter of Shipston Home Nursing and this summer generously made a virtue of the social restrictions we are enduring to deliver a unique and magical experience to families and friends. Richard summarises the fundraising month below
Butterflies….by Appointment
by Richard Gray
When the dreaded COVID struck, back in March, my first instinct was to cancel the annual Butterfly Walks at Blackberry Farm, together with all other Stour Valley Wildlife Action Group (SVWAG) activities.
However, the more I thought about it, the more I realised there was an opportunity to turn adversity into opportunity.
Instead of having a single event and trying to attract as many folk as possible on a single day, it made more sense to go for as many people as possible in a single month.
It quickly became apparent that, by having individual appointments (up to six people) with two-hour slots, that visitors could have 20 acres of open space all to themselves, without the risk of bumping into the visitors in front, or being caught up by those behind.
Thus the whole of July was available – and the result turned into the remarkable:
almost 400 visitors
the youngest, six months old
the oldest, 86 years old
over £2,000 raised (£5.00 adult, children free)
As before, the walk (approximately one and a quarter miles) was on a mown circuit with wooden animal sculptures and metal facsimiles dotted around at suitable points.
Additionally, a competition for children to count up the number of exhibits and, if they got the count correct, unfettered access to a generous bowl of chocolates and the scene was set to have a 'jolly good time'!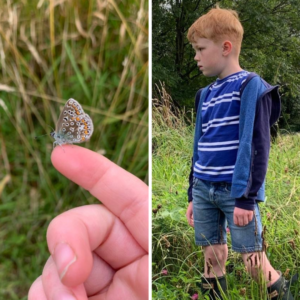 Henry, aged seven, saw a White Letter Hairstreak AND a Hummingbird Hawk Moth: "It's like being in heaven", he said, shaking with excitement.
11-year-old Summer got the sculpture count spot on (22) and won her chocolate reward.
The butterflies, for their part, put on a magnificent show with Marbled Whites, Meadow Browns, Ringlets and Gatekeepers out in force with Small Tortoiseshells, Peacocks, Brimstones and Commas adding their support plus, of course, Henry's White Letter Hairstreak.
Thank you to all who came and here's looking forward to next year's events.