Our Families Stories
Marion Nason
The Ettington Monday Club generously raised £100 in memory of Marion Nason who was an active member. I received two lovely letters from Pat Beatty and Pat Lockett.
"Dear Shipston Home Nursing,
Please accept the enclosed donation from the Ettington Monday Club in memory of Marion Nason who sadly died on 26th April and who appreciated you helping her during her illness. Marion was an active member of the Monday Club and prior to the Monday Club had been a member of Ettington W I for many years. She will be missed enormously by 30 village lady members. We are extremely fortunate in this area to be able to call on your professional help when required. Thank you. Pat Beatty."
Dear Rebecca "Marion Nason, who lived in Ettington, donated plants to the SHN Plant sale and Home Produce Sale in May for a number of years. She loved propagating plants and had accumulated many pots in her garden. Very sadly, she became ill with cancer and really appreciated the help she received from SHN earlier this year, before she died peacefully in April. Two car loads of her plants were taken to the Plant Sale in May and many others found good homes with neighbours and friends who gave donations, totalling £230 for SHN." Kind regards Pat Lockett.
My thanks to all Marion's friends who have been so generous in their support of the Charity.

Sheila Porter – A Letter from Harold J. Porter
The peaceful retirement world of my wife Sheila and I had prevailed in the village of Kineton for 26 years. It suddenly changed and came hard up against the buffers in August last year when we were told the cancerous growth that had been dormant in Sheila for many months had suddenly flared up, and had gone to her brain. This would not respond to treatment and was terminal. I would lose Sheila in a matter of a few weeks!
I was asked, did I wish for her to be taken to a Hospice or to her own home. A quick discussion with my daughter, we did not hesitate; to remain in her own home. The arrangements made by the NHS for my wife to come home were quickly put in place. The District Nurses took charge. Arrangements were made and Carers to come in four times a day to attend to Sheila's personal needs and …."would I like the Nurses from Shipston Home Nursing to attend as necessary to take the strain off my shoulders"?
They would increase the Nursing of Sheila each day as her life ebbed away. I was out of my depth. I knew of Shipston Home Nursing and knew they covered Kineton but no more. I said the biggest "Yes please of my life"!
As Sheila became more confined to her bed and lost physical aptitude so they increasingly took over. Giving her drinks, keeping her clean, moving her to prevent bed sores, keeping her mind at peace and eventually staying all night sat at her bedside persisting I go to bed and get a good night's sleep.
During the day they attended regularly and when not there, I had a telephone number to call which brought them back to Sheila's bedside in ten or fifteen minutes.
Was it the right decision to have Sheila home to die? Oh yes.
Did she lack any medical or nursing support? No.
Was her passing from this world peaceful? Very…. and all thanks in very large measure to Shipston Home Nursing
And the cost of all that wonderful support? Not a penny!
To all at Shipston Home Nursing… Many thanks.
And may you continue to get the financial support to keep you giving palliative care back to the community of Kineton and the surrounding area.
Harold J. Porter
January 2017

Jenny Suthons
A HUGE THANK YOU – TO SHIPSTON HOME NURSING!
The 24th June 2016 is a day most of us will well remember, as it was when the "Referendum" vote result was announced!… But for my beautiful wife, Jenny, and myself, it was the day that we were told, by our doctor, following various hospital tests, that Jenny had terminal pancreatic cancer. So a terrible – totally life changing – day for both of us, which I will never forget. Particularly, as we had enjoyed a wonderfully happy marriage, of over 46 years, travelled extensively and thought we were both pretty fit, eating the "right" food and doing regular exercise. But life can be so cruel!…
Subsequently, before Jenny got very ill, she asked me to promise that I try to do two things for her. That she would die here at home in Honington, with me by her side, and that she would not die in agony. I was determined to keep my promise, but not sure if I could do it. But thanks to Shipston Home Nurses, Jenny's last wishes were fully met.
The terrible truth about pancreatic cancer is that by the time it is diagnosed it is too late for any real survival treatment. We were offered chemotherapy, but it is very painful and it would only have given Jenny – if lucky – an extra four weeks on her life! It is a deadly disease with a 97% death rate.
Jenny still managed to swim up to late June, but her health was very quickly deteriorating. But she was amazingly brave, never ever complained and was resigned to her dire situation. We managed to cope, during July, but I obviously needed professional nursing support. It was on 26th July, that we met with our first SHN nurse, who quickly helped to sort things out, arranging daily calls from both the SHN and NHS District Nurses, delivery of a hospital bed, issue of the correct drugs (mainly morphine, regular personal care (very important for morale) and the (vital) night nurse support.
From my experience, a pancreatic cancer patient seems to go through three stages. Firstly – not too bad and just coping; Secondly – still mobile, but perhaps hallucinating and getting more ill by the day; Thirdly – cancer now spread to the liver, so jaundiced, bed-bound and terminally ill. In some ways, I found the second stage the toughest to go through and I will always be grateful to my three SHN regular "bank" night nurses, namely, Tracey, Mary Rose and Francis. They helped me get a good night's sleep and were so kind and caring. I will never forget them. Also, Caroline, Donna and Barbara (SHN) and all the NHS District Nurses, led by the lovely and so caring, Carolyn. Also, to my daughter, Elizabeth, who with three children under eight, never left my side during the last weeks.
As it was the height of summer, many nurses were on holiday, which resulted in seeing many different faces. I kept a record, and over 20 different nurses came to care for Jenny, in less than two months. Shipston Home Nurses did a truly wonderful job and a SHN nurse was by my side when Jenny passed away, peacefully, in our bedroom, on 17th September, at 7.15, in the evening.
SHN do a wonderful job and I do not know how you all do it! I think it is down to a dedicated desire to lovingly care for terminally ill people, from all walks of life. Whatever, you can all be so proud!
I asked all our family, friends and neighbours to make any donations, in memory of my lovely Jenny, to SHN. To date, we have raised over £1,400. We are so fortunate to have you here and I cannot thank everyone involved enough! Bless you all.
Richard Suthons; Aeron House, Honington, Shipston on Stour.

Charles Dockar-Drysdale
Just before Christmas 2014, my father, having battled prostate cancer for nearly a decade, learnt that the end of the road had been reached in terms of drugs and options. There were no stated time frames, no clear plan, only a swift and steep decline in my fathers health. My father died, peacefully at home – as had been his wish and our promise to him, on 14th February 2015.
We could not have achieved this ending without SHN.
By mid January 2015, as a side effect of the drugs, treatments and progression of the cancer itself, my father became increasingly disturbed and in need of increasing levels of care – resulting in my mother surviving on little or no sleep for weeks. The shocking reality quickly crystallised – my father was dying, and my mother, though naturally strong, was increasingly exhausted physically, mentally and of course emotionally. Living close by, we were able to help and provide support – but only to a point.
In a further acknowledgement of the reality of the situation, we called SHN in late January. Kate – our lead SHN nurse arrived and instantly became our reassuring and very special guide through a journey none of us had travelled before. Kate and her colleagues provided so much, they brought humour – making Dad laugh despite the dreadfulness, they provided desperately needed relief for Mum – enabling her to sleep safe in the knowledge that they would be taking good care of Dad.
Most importantly Kate and the team, in conjunction with Dad's GP, provided skilled care for my Dad when he needed it most. The SHN team helped him understand what was going on, helped him be calm, helped keep his pain at bay. The team, led by Kate, achieved all this with great sensitivity and in a way which felt totally unobtrusive and allowed us all to make the very most of our last days with Dad. It might sound wrong or odd, but somehow the SHN team helped make the worst days of my life manageable and I know this is true for my mother, brother and sister.
Having lived close to Shipston for over a decade, my wife and I have attended several of the SHN balls without – being really honest – a real understanding or appreciation of what incredible work SHN actually does. I hope and pray that when my time comes, I too am able to benefit from the wonderful care that SHN provides if the need arises.
William Dockar-Drysdale

Letter
Michelle, Rosalind, James and Isobel Boycott
August 7th 2015
Dear Rebecca
I am glad that I have been able to finally catch up with you today on the telephone and say how sad it was to hear about Kate Hardwicke.
As I mentioned to you, she was a wonderful support to me and the children towards the final stages of Peter's illness and it was tremendous comfort for me to know that I could call her at any time of the day or night.
As a result of this support, Peter was able to remain at home which is what we had all wished would be possible. Roberta Matthews was also a wonderful person to have here at home, when she came on several occasions either to allow me to catch up on a good night's sleep or give me a break during the day.
They were both very caring to Peter and enjoyed his witty rapport.
I am enclosing a cheque which I hope will be helpful towards any specific area of the invaluable work that you all carry out in the community and which is greatly appreciated. If there is anything else I can help with in the future, please let me know. With our very best wishes to you all.
Michelle Boycott

Andrew Bygate
How odd that Andrew and I met while on a committee for a charity event to raise money for Shipston Home Nursing, which, at the time, was a new local charity. We were all in our late 20's, I don't think any of us really thought we would need such a charity until we were old and grey. I can honestly say, that until October 2006, I never expected I would be calling Shipston Home Nursing and asking for their help with my beloved husband, who was at that point only 46.
We had everything – Charlie age 4, Issy age 2 and another little boy on the way. Andrew's business was growing and developing really well, he employed over 200 people, although stressful, this was his passion in life. His vibrant personality, his zest for new and exciting things, his tangible excitement in everything he tried was infectious.
While pregnant with my third baby, Andrew's personality changed dramatically, he became disorientated, withdrawn and very tired. He just wasn't himself, doctors were baffled, he was tested for all sorts of things. A week later, he was referred to a neurosurgeon and even he wasn't convinced he had anything wrong. The next day we received the devastating news that Andrew had a brain tumour and it needed emergency surgery, George, was 1 week old. The operation was a huge success, Andrew made an amazingly quick recovery, was home within days and we thought we could now get on with our lives. I have to admit to doing a bit of research and knew the results of the histology report could go either way.
Two weeks later we were told Andrew had a Glioblastoma Multiforme, which is a Grade 4 brain tumour, the highest grade of cancer and the fastest growing. We were told there wasn't a cure and Andrew was only expected to live between 18 months and 2 years. The message we were given was, " Go and enjoy yourselves! "
Andrew coped with the radiotherapy and chemotherapy fairly well, at times he was exhausted from the radiotherapy and felt dreadfully sick from the chemotherapy, but he was up and back running his business about 6 months later. That was how Andrew coped with this dreadful disease, he attacked it for eight long years with sheer guts and an incredibly strong will.
I have to admit, we had 5 years of fun – a diagnosis like Andrew's makes you enjoy life in a different way. We had lots of holidays, made lots of memories with our children and got on with life in the best way we could. The children knew Daddy had had a lump in his head, but that was all, they were too young to understand and didn't need to know any more. As time went on, we were so glad we didn't tell them exactly what was going on, Andrew never wanted to be treated any differently by anyone else, most of all by his adoring children.
We were living on borrowed time and had already defied the original time frame we were given. However, at the end of 2012 the symptoms were beginning to return. Following a grand mal seizure and subsequent scan, the news we were dreading was confirmed. The tumour was growing again. We both knew we would have a major battle on our hands now, but Andrew always seemed so invincible, that we never really thought it would get him. He started on another 6 month course of chemotherapy early in February 2013, which worked for a few months but then things started moving again. I had the telephone call we all dread, from a complete stranger, who was with Andrew and he was having a massive seizure in the doorway of McDonald's in Stratford and he was looking after Issy after taking her to swimming club! It was confirmed that the tumour had completely regrown and surgery number two was booked for 20th November 2013.
Andrew's second surgery was done partially awake, again it was a massive success and then were back to the dreaded chemo, a new type, which was more difficult to manage as it had diet restrictions and was harder to recover from than the previous chemotherapy. On the fourth round Andrew had a massive allergic reaction to it which meant we had to withdraw part of it. This was a huge blow to us as we knew that our options were running out. He continued with the chemo, but omitting the part that gave him the allergic reaction. By the end of this round Andrew had lost his speech again – this was the now all too familiar sign that things weren't as they should be.
A few days later it was confirmed the tumour had regrown again, it had now gone deeper and would be inoperable. It would cause too much damage. The following week we went to see Andrew's oncologist and she confirmed that it would probably do too much damage if they operated. In his usual style, we left that meeting and Andrew got straight onto his surgeon and asked if he could take it out!
Surgery number three was booked for mid August 2014. We were given permission to go on, probably, the most special holiday of our lives. The Children were excited about going away, we all needed a break and time to take stock of what was happening and to make more memories as we both knew that time was running out. We meet every year with some very special friends and we all knew that this could potentially be Andrew's last one. He needed more rest, his mind wasn't as quick as it used to be and his memory was fading but he was still as funny and loving as he always was.
I remember so well being sat with Andrew in Intensive Care after his surgery, he was talking (this was always a massive risk area), he was funny, loving and as gorgeous as ever! He was so funny obtaining the full life history of his nurses, providing advice on marriage and even how to cope being a working mum!! But on his second day, I instantly noticed an enormous difference in Andrew, he just slept. Everyone thought this was normal, I don't know why, but I just knew it wasn't.
He came home and slept most of the time. He tried working a week after surgery but quickly realised that his brain wasn't up to it this time. We went back to see the surgeon, who still thought the extreme tiredness was from surgery. As Andrew's tiredness became more aggressive, I knew I needed to get a second opinion. I took Andrew to London and the minute I saw the sympathetic look on the oncologists face, it was confirmed for me. Another scan, quickly confirmed there was nothing else they could do.
My beautiful, bright, loving, gregarious, quick thinking husband would lose all his ability to think for himself – these were the words Andrew's surgeon used, he too, was heartbroken as they had formed a great friendship over time and he was always so in awe of Andrew's ability to cope and to survive this illness, defying all the odds.
From that moment on it felt like all I had to do was make decisions and all of them on Andrew's behalf! We had all our financial affairs in order but as Andrew wasn't ever going to die, we had never discussed what would happen at the end. We really thought we would have more time when it got to this stage to talk about what he wanted. Nothing can ever prepare you for the sickening feeling of losing control of this dreadful cancer. It was at this point that I was offered a visit from a nurse from Shipston Home Nursing. I just wasn't ready for this. We bumbled our way through the weekend, with the help of Andrew's parents and my family.
It then became obvious to me that I was going to have to do what no mother should ever have to do: I had to tell my three beautiful children, that their Daddy was dying and there was nothing else we could do to save him and keep him with us. It was heart-breaking, they were so brave and so loving. It was the hardest moment of my life and utterly devastating.
Andrew's health was rapidly deteriorating by the hour, and I quickly realised I needed help. It was so hard, as I felt like I was failing Andrew by not being able to care for him myself, I enjoyed looking after him, any loving wife would, but my three children needed me more now than ever. I couldn't sleep as Andrew was uncomfortable and I spent all day looking after him, I was exhausted.
The next day Kate Hardwick, a nurse for SHN, came into my home and was amazing, she took total control of the situation in a loving and kind way, but still treating Andrew with the utmost respect. All my anxieties ebbed away instantly and all I wanted to do was hug this incredible woman that had come into our lives. This enabled me and my children to have the best quality time with Andrew we could have hoped for. His hospital bed was next to ours and we would watch movies together, do homework on the bed next to him and we even had George's 8th birthday party in there!
Kate came back the next day and brought another lovely nurse with her, they were like little angels, appearing when I most needed them. They did the basics such as washing, shaving, moving Andrew around so he didn't get sores, massage and checking Andrew's pain levels. I do really believe that he enjoyed them being there, he would always smile and wave and even give them kisses.
After one particularly bad night, it was suggested Andrew could go into a Hospice. Again, a total fear and panic takes over, I just wasn't ready for it! Everything was moving so fast. I went to look at the hospice with Andrew's parents and sister and we all agreed it wasn't the right place for him but were also unsure whether we had other options.
As always, I discussed every nightmare of this journey with these lovely nurses that came to my home 2 or 3 times a day, agonising over what I should do next, listening to the their gentle words. They offered to come and sit with Andrew at night while I slept, this was imperative to my health and ability to hold it all together. I looked forward to the time they arrived, loved the peace and calm they brought with them and had total trust that they would look after my darling husband like I would.
We managed a few nights like this then Andrew's breathing deteriorated and the moment I could detect fear in my childrens eyes was the moment I knew I had to move Andrew, but where? I couldn't bear the thought of me not being able to be with him all the time, I didn't want him left for one moment, the tumour had changed him quite dramatically now and I didn't want him to be scared. It was the hardest and most important decision of my life. I discussed my feelings with Janet Oakey at length that night and the following day Janet offered the services of her nurses to look after Andrew at night in the Ellen Badger Hospital in Shipston. I think I sobbed with relief, it was the best possible answer to the most horrendous situation.
The day Andrew was moved from our family home, was utterly traumatic and the one I dreaded more than anything else. Again, made easier with the love and support of the Shipston Home Nurses. They nursed Andrew every night from 10pm until 6am. These wonderful, kind ladies talked me through each stage of the last few days and were a constant confidant for me and our whole family.
Andrew was in the Ellen Badger Hospital for one week before losing his extraordinarily brave battle on Wednesday 8th October 2014, aged 46.
Sharon Bygate

Audrey Vickers
Audrey May Vickers passed away peacefully at 7.45pm on Saturday, July 26th, 2014.
Our Mother, Audrey, 98 years old when she died, lead a remarkable and hugely interesting life. Unsurprisingly, when Audrey was informed by her wonderful colorectal consultant at Warwick Hospital, Ms Karen Busby, that she was suffering from terminal bowel cancer, her typical reaction was to request surgery. On reflection, to our considerable relief, she decided not to undergo an operation which she requested and was offered, but rather to spend her last days at home.
The attention and dedication of Dr.Jo Piercy and support from our local District Nursing team were unstinting. Audrey's decision to be nursed at home was largely due to the availability of care provided by Shipston Home Nursing. All these dedicated professionals worked as a seamless team providing constant care and support until her death.
The expert nursing and loving care and attention given to Audrey from the SHN nurses' first visit until after her passing were remarkable. It was very reassuring to her that a small number of nurses were dedicated to her care rather than a succession of different faces.
From their early morning visits to evening calls and, in the final days, overnight oversight ensured that Audrey had every possible care and comfort. Nothing was too much trouble. Extra personal and medical equipment appeared as if from nowhere!
All this was consistent with what we had previously heard about SHN's service – beyond this were the kindness and affection shown to Audrey. Her nurses listened to and chatted with her. Audrey was treated with dignity and she was nursed with loving care.
Throughout the final days Andrew and I, as Audrey's son and daughter, had ongoing support from the nursing team. They told us what to expect and were kindness and reassurance itself.
Shipston Home nurses are VERY special people and have our enduring, heartfelt thanks.
Andrew Vickers

Jim Warren
SHIPSTON HOME NURSING OUR NURSES AT THEIR BEST :-
Jackie Ramsey's partner Jim Warren was nursed by Kate Hardwicke. This is Jackie's memory of that very special, but sad time.
Jim passed peacefully on April 12th 2014 aged 56. He had metastic colorectal carcinoma. The day we were told was unbearable and in those few seconds we knew that our lives would never be the same again.
But the strong man in front of me took it on the chin, and if you knew Jim well, you would expect nothing less. We knew we had to live with the cancer and look on the bright side and cherish the moments.
Jim was born locally on Tidmington Farm, near Shipston-on-Stour. His love of the farm, wildlife and nature was outstanding. His work was also a passion as an experienced tool maker in and around the area. He became an encyclopaedia of knowledge and experience, passing on his know how to friends and family.
He was a very sociable man, believing you had to laugh at yourself, with witty banter being the order of the day. He was a loyal and trustworthy friend to many. He was a brilliant role model and Father to his children and stepdaughter. Always instilling good morals and values. His fierce strength was inspirational, never losing resolve or dignity, never giving up the fight.
Jim and I both realised we needed assistance on this journey, but we found so much more! Shipston Home Nursing gave us support, reassurance, the strength to continue and more than that we found friendship.
I know it was of major comfort to Jim's children that he always looked forward to seeing Kate and it would perk him up massively to know his date with his favourite Nurse was due! Jim needed to talk honestly about how his cancer would progress, he had many conversations with Kate, in which it was explained the treatment he would receive and how he would be looked after when his time came. This was immense comfort to Jim and he was glad of the direct talking that he received. The honesty was a comfort to him.
As the months progressed Jim became frustrated with the limitations of what he could do. He would laugh with his children about taking hours to put a slipper on, but with Kate he could allow the pessimism to seep out. Jim's dignity was so important and he was allowed to keep that until the end. Kate and Jim decided a plan of action to keep his self- respect and pride, but also allowed for the care which had to be provided. Kate became a councillor to us all, not only helping Jim through the dark days, but also me as his partner. I still had to work knowing that Jim was seeing Kate, helped me through the day.
Until you live this journey you don't realise the support needed. Shipston Home Nursing provided this and more. We have not only respect and admiration for our Kate but the Charity as a whole. You are an amazing Charity who have gone above and beyond, to look after the most special man.
On behalf of myself, our family and Jim, I thank you. You are angels and will be forever in our hearts.
Jackie Ramsey

Penny Parker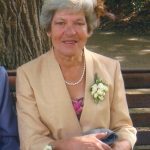 Shipston Home Nurses were absolutely fantastic with our mum. They helped mum to wash and change and arranged home visits from the GP for stronger pain relief when it was needed. The nurses took time to talk and listen to mum, even about general things, not just her illness. The Nurses were also there for us as her family. They were happy to answer questions we had and listened to our concerns in confidence.
I know mum felt very grateful to her nurses and looked upon them as friends, we as her family did too. It's not easy to watch someone you love dearly suffering and being taken away from you, but it was nice to know the nurses were there whenever we needed them to make mum as comfortable and pain free as they could.
We could not have got through it without them.
Colin, Katie and Kelly.

John Graham-Martin
My Triathlon for John
A widow who lost her husband to a brain tumour in March 2011 took part in a triathlon in his memory. Maria Graham-Martin, aged 48, of Tredington, near Shipston, took part in the BRAT (Birmingham Running and Athletics Club) Super Sprint to raise money for Shipston Home Nursing and Brain Tumour UK.
Mrs Graham-Martin and her 13-year-old daughter Anna chose the charities as they both helped her husband John when he was going through chemotherapy. He suffered a major stroke in 2009 and was taken to hospital.
Doctors found the tumour after a brain scan. "Nothing can prepare you for something like that," said Mrs Graham-Martin. "We were in terrible shock for a long time. John was a kind, funny and clever man who was dearly loved and we miss him every minute of every day."
As a regular at Dance Fusion, a dance class in Chipping Campden, Mrs Graham-Martin has been able to take her mind off her grief after John died, aged just 45.
She said: "At first, nothing helped me; I just felt deep despair. However, my lovely friends urged me to keep busy. I started going back to the dance class and found that it lifted my spirits every time. Everyone there has been so supportive and kind. It has really saved me."
She also raised money through charity pilates classes at Preston-on-Stour Village Hall and at the Townsend Hall, Shipston.
The grand total that Maria raised for SHN was £2,183! Thank you so much Maria for your terrific effort and generous support.
Shipston Home Nurses were absolutely fantastic during the worst, very worst of times. They worked hand in hand with the community nurses and between them they were an enormous help and support to all of us. They provided very professional nursing skills and practical help, along with compassion and sensitivity at a really difficult time.
I can't praise these nurses highly enough – they are all very special people, providing an invaluable service. I will support Shipston Home Nursing in any way I can in the future – the traithlon was just the beginning!
Maria Graham-Martin

Jim Larkin
Death with dignity
James & Henry Larkin give a moving account of their Father's last years and the help they received from Shipston Home Nursing
"Our father, James Larkin (known to many as Jim) was diagnosed with cancer in August 2003, but continued his fight for four subsequent years. Towards the end, Dad needed an increasing amount of care, but was determined to continue living at home until the end. Without Shipston Home Nursing, this would not have been possible.
The four years following Dad's diagnosis saw many changes for us as a family, some which we were prepared for whereas others were wholly unexpected. His treatment started in the John Radcliffe in Oxford but he was eventually transferred to the Royal Marsden Hospital in London for an intensive course of chemotherapy and radiotherapy. Dad laughingly referred to this as the Doctor's policy of "slash, poison and burn". We were hugely fortunate in that Dad received top class treatment.
However, as I am sure many of you will know most cancers possess their fair share of complications and Dad seemed to experience most of them.
So we were hugely relieved when he was given the "all clear" by the Doctors in 2005. One of the side effects of treatment was that Dad was unable to drive, so we decided to move to Shipston. The benefits of moving here were numerous and Dad was able to live a normal life, for about one year. This was an extremely happy time for us as a family. Unfortunately this time came to a close when we were told that a more aggressive strain of the cancer had returned, and Dad was given months to live.
Our Doctor, Chris Thorogood, suggested that Shipston Home Nursing would be able to help us. As a family we had helped to raise money over the years; my brother and I had been drafted onto the committee of the first and following Shipston Home Nursing Notorious Villains Ball; Mum had cooked and washed up at various cottage pie and dance nights and both parents had always enjoyed attending the Shipston Home Nursing with their friends. I believe that we often find ourselves supporting charities with a blurred picture of what the organisation achieves and we never expect to find ourselves calling upon them for help.
"Shipston Home nursing enabled us to live at home together and allowed Dad to die with dignity in the very heart of his family"

Life Experience

My attention was first drawn to the Shipston home Nursing group a few years ago when I was teaching at a school near Banbury. Each Easter term the children in each year group used to raise money for their chosen charity and one year it was the turn of Shipston Home Nursing.
It was not until about 20 months ago that I realised what it really was all about. My wife Sue, had been diagnosed with Ovarian cancer and she had been through the mill with a major operation and several sessions of chemotherapy. This was devastating to all of us as a family, and it caused lots of uncertainty in our lives. Sue gradually became weaker and it was obvious that the dreaded C was taking its toll. Time was short, and we had two family weddings lined up which she was looking forward to.
At the beginning of May 2009, it was obvious that the recovery that we all wished for, was not going to happen and the doctor suggested that we should be referred to the Shipston Home Nursing group. He said that it was a service for the terminally ill in the last few weeks of their life, and as Sue wanted to die in her own home this would be a means of achieving this goal. She certainly did not want to go to hospital and she wanted me to keep going to work as long as possible. The main co-ordinator came and assessed the situation and took over the day to day organisation of nursing care.

This was a great relief as I knew Sue was getting the best possible nursing care at home, and it took away much of the stress at a very stressful family time. I cannot speak too highly about the professionalism of the team of nurses who attended to Sue's needs, and the good thing was they kept me informed of what to expect, and they co-ordinated well with the District nurses and doctors. They were quite prepared to give me a rest by staying overnight if I so wished. I felt that at this most stressful time, they took away much of the worry by attending to Sue without a time criteria and I also felt that they cared about the whole family. Sue died peacefully at home at the end of May 2009 and sadly missed the two weddings.

The Charity is funded by voluntary donations and by people supporting functions locally and this pays for the staffing and running costs. It can only work with the hard work from individuals and the support of the local people often in the simplest of ways. eg. buying Christmas cards, loose change in the charity box, and going to functions. It is not until you experience a situation that you really appreciate what the Charity does. I know our family is greatly indebted to the support that was freely given.
To this end, Andrew, Sue's son, joined a 100km off-road cycle ride called 'The Hell of The North Cotswolds, with 1000 other riders starting from Winchcombe on April 11th 2010. He completed the course in 5hrs 10mins and raised £405 in sponsorship plus a further £114 in Gift aid. The Just Giving website offered the simplest and straightforward way of donating to the SHN. He would like to thank all his donors.
Peter Tuckwell, Ilmington

Brian R. Sutton f.r.i.c.s 1925-2010
After two years of frequent visits to the Churchill Hospital in Oxford to have cancerous tumours removed from my husband's bladder we were finally given the devastating news that the cancer had spread to his pancreas and that Brian had only three months to live.
I had informed our Doctor that I wanted to keep Brian at home, which was also Brian's wish, but I had no idea how I could cope.
Thanks to Shipston Home Nursing, who came to the cottage each day and eventually provided nursing care overnight to give me some respite during the final days.
Only a telephone call away a nurse would come when called and were with me when Brian passed away from the world.
Without their loving and sensitive care I could not have carried on and I shall be eternally grateful for their devotion, which far exceeded their duty in many respects.
This is a wonderful organisation with many devoted volunteers who all deserve our respect and support.
By Audrey Sutton