The Nursing Team
Call the Nursing Team on 07920 480 392 or 01608 664850.
Email the Nurses at admin@shipstonhomenursing.co.uk
For the future of the Charity it is vital that we keep investing in our team of qualified Nurses.
This Years Plan
March
Mandatory Training course for 11 Nurses – Office based – £695
Syringe Driver course
April
Symptom Management and Emergencies in end of life care – Sobell Study Centre for 3 Nurses – £95
June
Introduction to loss, grief & bereavement for 1 Nurse – £30
Symptom Control equipment for daily use – patient.
August
CQC Inspection Conference – 1 delegate £224.99
September
Mandatory Training sessions for – 5 Nurses £55 each
October
Supporting Bereaved Adults
NAHH Conference – 2 delegates to attend
December
Loss & Bereavement Awareness – Cruse – 1 delegate £168
"You matter because you are you. You matter to the last moment of your life, and we will do all we can, not only to help you die peacefully, but also to live until you die"
Dame Cicely Saunders (22/6 1918 – 15/7 2005)
Sarah Duncan – Head of Nursing Services
Sarah was born in Stratford upon Avon and recently returned to the area after living in the USA for 8 years.
She trained as a Registered General Nurse at the Nightingale School of Nursing, St Thomas Hospital, London. For much of her early career Sarah worked as a Senior Staff member on The Lane Fox Respiratory Unit which is a national referral centre for chronic respiratory failure.
During this time, she gained in-depth knowledge of caring for patients with COPD, Respiratory failure and neuromuscular disease, both in the acute and community setting. This service also provided a 24-hour emergency response team for patients receiving artificial ventilation at home.
Sarah then progressed in Adult Intensive Care nursing gaining advanced training and qualifications. She has further experience in Quality and Audit within the NHS, medical sales and has worked in the private and charitable sector.
Sarah worked on the bank for Shipston Home Nursing in 2016 before joining the Shakespeare Hospice at Home team.
She joined Shipston Home Nursing again in April 2018 as Head of Nursing and Co-ordination and is extremely excited to be re-joining the team and developing the service forward to meet the needs of our community.
Sarah has 3 children and enjoys cooking, gardening, skiing and walking her 3 dogs.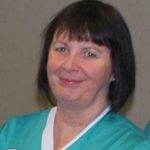 Caroline Hutchison – Nurse Co-ordinator
Caroline trained at Carshalton Surrey and worked at Stratford Hospital and then the Nuffield Hospital Leamington Spa for 20 years. Caroline has been involved in palliative care work since 2000, joining SHN 2006. She also works as a school nurse. Caroline finds it a real privilege working for SHN and being able to provide individual quality care at home.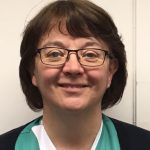 Barbara Quinn – Nurse Co-ordinator
Born in Ebbw Vale, South Wales and proud to be Welsh. I'm married with two children; both have fled the nest now! I live in Shipston on Stour and have lived there for 4 years, prior to that I lived in Birmingham for 32 years.
I've recently joined the SHN team as a part time Co-Ordinator and I'm really excited about the challenges that lay ahead. Prior to this role, I worked mainly in Orthopaedics, for the NHS and I worked in various hospitals, mainly in the midlands for 40 years. My hobbies and interests include; Reading, walking, music – concerts, festivals, the odd glass of Prosecco with friends!.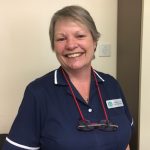 Caroline Ann Lloyd – Nurse Co-ordinator
I moved in to community nursing at the Ellen Badger Community Hospital in the nineties.
After 8 years I joined the District Nursing Service in Wellesbourne.
We merged with the Shipston service and moved there a few years ago where I met and worked alongside Shipston Home Nurses.
I was delighted to join them in November 2016, and thoroughly enjoy my role as a nurse co-ordinator.
I find it a privilege to help and support our patients and their families at this stage in their lives.
I've lived locally for over 25 years, I'm married with two grown up daughters and love gardening.
Nurse Manager Report 2017
2017, our 20th anniversary, proved to be as busy and rewarding as previous years. The Shipston Home Nursing team now comprises 16 registered nurses, all with specialist palliative care experience.
We have welcomed two new members to the team; Suzanne, who has several years community experience and Sally, who recently joined us from ITU at the Horton Hospital. Both have integrated well into the existing nursing team. We sadly said goodbye to Lilian Smith-Vincent and Sarah Fellow's from the Nursing team and we would like to thank them so very much for their dedication and support. Their care for our patients has been wonderful and we wish them the best for the future.
Back in May, we commenced an extension to the existing palliative care service. This involved accepting earlier patient referrals from the G.P practice at Shipston Medical Centre enabling us to offer support to our patients sooner in their illness. Regular audits have been carried out throughout the duration of the pilot study to determine whether this enhancement to our services can be rolled out to other surgeries we cover. It is always encouraging for hard work and dedication to be rewarded and in November 2017, SHN received the Age UK award for Dignity in Care. Heartfelt thanks go to Mrs Owen and her family who nominated the Shipston Home Nursing team. Three of the nursing team travelled to Oxford to receive the award which was presented by Tim Stevenson OBE, the Lord Lieutenant of Oxfordshire.
Nursing can be a very rewarding, but often a challenging occupation and palliative care nursing is no exception. With that in mind, the nursing team were asked to put into a sentence how they feel about their chosen profession and what palliative care means to them. Here are some of their thoughts: (I have kept them anonymous as the nurses are a shy bunch).
"I am very privileged to be allowed into patients' homes at this very crucial time in their lives and hopefully give them and the family all the support possible."
"I find it very rewarding to help people achieve their wish to die at home rather than in hospital or a hospice."
"Making a rewarding difference, I can touch someone's life in a moment and create a lasting impression. It's about making an impact on the lives of the patients and families that I care for at a sensitive and vulnerable time."
Our main aim is to reach as many patients and families who are in need of our services so that we can help to provide a practical and safe alternative to a hospital, care home or residential hospice. As 2018 starts with cold and frosty mornings, may the Shipston Home Nursing team wish all of their supporters a Happy and healthy New Year.
Stay warm and enjoy the sunshine when it appears. If you wish to know more about our work in palliative care please contact us on 01608 664850 or visit our website www. shipstonhomenursing.co.uk
Janet Oakey
Head of Nursing and Co-ordination