20 Walks in Shipston Country by Peter Titchmarsh
20 Walks in Shipston Country by Peter Titchmarsh
A reflection by Ian McConnel
An enthusiastic supporter of Peter's Walk Book and Shipston Home Nursing, Ian McConnel has compiled a summary of the 20 walks in Shipston Country.
He has completed all 20 walks and would like to share his passion for the beautiful countryside which is on our doorstep. He hopes his enthusiasm will encourage people to discover it for themselves or with his help.
Click the links below to see all Ian's hard work, why not give him a call.
You can purchase a book from our website shop or from many outlets and pubs in and around Shipston.
Ian's 2017 review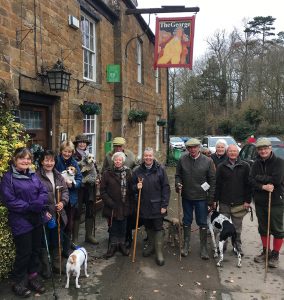 It has been another busy and successful year for the Inns, Pubs, Shops and Surgeries who have continued to promote and sell Peter Titchmarsh's excellent book "20 Walks in Shipston Country".
During 2017 over 450 copies have been sold and nearly £3,500 has been raised from these sales and the monthly SHN walks.
Increasingly buyers are realising that, as well as well as the very informative description and directions of each walk, the second half of the book includes "A Detailed Description of Towns.
Villages and Other places of interest" which can be very helpful to tourists, house hunters and indeed anyone who is keen to widen their knowledge of Shipston Country.
Our Star Sales outlets this year have been The Red Lion in Long Compton and The Ebrington Arms who have both sold over 40 Books – Special congratulations and thanks to them
Also to the following who have all sold over 20 copies
Howard Arms Ilmington, Ilmington Village Shop, Ettington Shop, Wyatts Farm Shop, The Castle Inn at Edgehill and Tysoe Village Shop and Café.
The Shipston Home Nursing Walkers continue to meet monthly 11am in Winter and 6pm in Summer returning to the start/meeting point for suitable refreshments. The pace is
leisurely, the gossip juicy and excellent exercise for dogs. If you would like to join us, please let me have your email address and I can send you details of each walk in advance – imcconnelhome@gmail.com or call on 07498 923249 or 01608 685257.